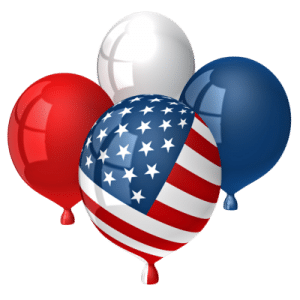 Independence Day is one of the most-fun holidays! As you welcome summer, you can celebrate our country's birth with friends and family surrounded by great food, games and brilliant displays of fireworks.
If you're looking for truly helpful 4th of July party tips and ideas, check out these 10 that will help you save money, avoid waste and have a truly memorable time.
Get Reusable Decorations
Plastic & paper streamers have their place, but reusable flag bunting costs less in the long run & keeps unnecessary waste out of our landfills. It looks better, too!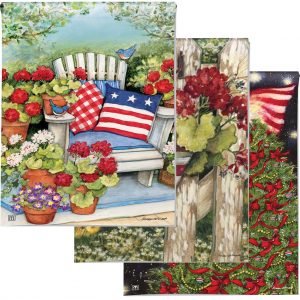 Whether you're honoring a vet at your party, want to show your family's service or display your military pride, customizable art poles are a unique way to go.
Give a Shot of Fun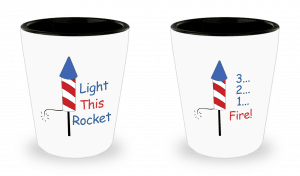 Ceramic 4th of July-themed shot glasses are reusable & great for adults or kids. Fill them with your favorite cocktail or with red, white & blue candy.
Use Plastic Responsibly
Plastic drinking cups/plates are a convenient & safe way to serve guests. Just be sure to show them where your clearly-marked recycle bins are so plastic doesn't get trashed.
Label Cups to Avoid Waste
Set out red, white & blue markers so guests can label & decorate their plastic cups. It's fun & prevents people from using a new cup with each refill.
Repurpose Decorations from Other Holidays
Have leftover red napkins from Valentine's Day? White lights from Christmas? Have blue plates from birthdays past? They'll work great on July 4th!
Serve Drinks in Bulk
Individual-sized bottles & boxes cost more than gallon-sized jugs. Resist the urge to buy cases of bottled water, juice or soda & go for larger sizes instead.
Skip the Straws
Do you really need them anyway? Leaving the straws at the store saves you a few dollars and keeps you from having to pick them up as you clean later.
Set Up Your Own Photo Booth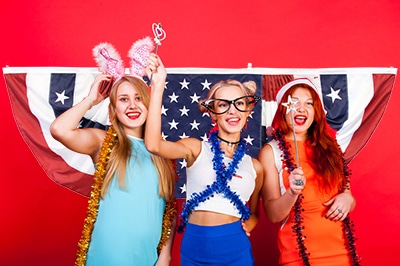 Pick a corner of your house or yard, drape some patriotic bunting or banners as a backdrop, add a few cute hats, glasses or signs & let guests take selfies. FUN!
BONUS TIP #1: Serving alcohol? As your guests arrive, ask if they have designated a driver. If they have not, request that the do so then to ensure everyone gets home safely. Uber or Lyft are also great choices for someone who needs a ride home.
BONUS TIP #2: Create a private Facebook group or Pinterest board and invite all your guests to join. You can each post the pictures you snap of friends and fun during the party for everyone to enjoy.
With these 12 ideas, you can quickly make your July 4th party a huge success that you'll want to repeat every summer. Check out this page on the Wow Store for all our patriotic products.
Have other tips? Feel free to share them below.